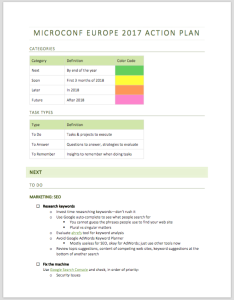 Yesterday I returned from MicroConf Europe 2017 and my head has been full of ideas from the conference talks.
Today I spent the day compiling all of the ideas and prioritizing what to act on first. My result was an action plan and a prioritized list of projects.
Since I heard others at the conference wondering what to do first, I thought it would be helpful to write about my process.
This post also serves as an example of the tools that I'm developing for Strategic Life Tools to help others do self-guided life coaching to plan and design their life (though most tools will be less complicated than this one).
If you're interested in using tools like this to improve your life, sign up on the early access list.
Continue reading >