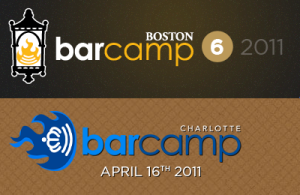 With BarCamp Boston this weekend on April 9th & 10th, and BarCamp Charlotte next weekend on April 16th, I'm wondering what to present. As always, I have tons of ideas running through my head, including:
Lifehacking Roundtable
Moderate a discussion on the tricks & techniques people have used to consciously improve their life by altering their behavior or environment.  In my life, I've tried low-expectation resolutions, a tagging system for LinkedIn, a sit/stand desk arrangement, my own version of Getting Things Done for e-mail management, and most recently, Read It Later to manage my reading stream.

Knowing When To Quit
Ideas on determining when to cancel a project, fire your customers or sell your company, based on my current research into the Continue/Cancel decision pattern.
Learn Poker To Improve Your Business Acumen
Expanding on my post by the same name and other posts I've read, talking about how poker can be used to gain a stronger gut understanding of key principles of business.
Entrepreneur Poker
Host a variation of a Texas Hold 'Em poker tournament that I've been working on that includes angels & VCs who can invest in players and give them advice, and special rules to mimic the startup world better.
Prioritization Strategies
Prioritized lists get used often as input into decisions. So what are the techniques that can be used to prioritize a set of items, whether projects, resumes, to dos or purchase options? Thinking of going through Divide & Conquer, Paired Comparison, Rate, Composite Score and Pro/Con techniques.
How To Model Your Business
A step-by-step approach on how to create a business model of your revenue, expenses and operations. This would be a precursor for a talk I might give at Carolina Connect this year.
Though of course, I may do none of these, or come up with a session that day.
Do any of these pique your interest? What session do you think I should do?
I'll be at BarCamp Boston on both days, April 9 & 10th, and if I'm not completely exhausted from my Boston trip to drive down to Charlotte, at BarCamp Charlotte on April 16th (anyone from Asheville want to carpool?). As always, I'll be wearing a black fedora, so come up and say hi. See you there!