Did you know that 30,000 people die each week from unsafe water and unhygienic living conditions? That's 1,560,000 people a year.
90% of those deaths come from children under 5 years of age.
But you can help.
Take 5 minutes today to make a donation.
In July I attended the World Domination Summit and saw Scott Harrison speak about being an greedy nightclub promoter. Then he joined Mercy Ships, helping to provide free medical care to the people of the world's poorest nations. The experience transformed him.
He returned to the U.S. to found charity:water, a charity dedicated to providing clean water to everyone in the world. But he did more than form another charity. He transformed the charity model.
Instead of taking a cut out of each donation to fund the administrative operations of the charity, charity:water receives all its operating costs from private donors, foundations and sponsors. 100% of the money you donate goes to providing clean water to the 800 million people on this planet that drink dirty water.
Look at this photo. Imagine drinking muddy water filled with bacteria. Then imagine yourself as a six year old, having to trudge miles each day to carry that muddy water home to your family, the weight of the water warping your back. That's how some in Rwanda live every day.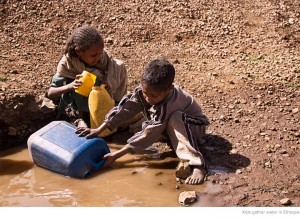 At the conference, I pledged my birthday, giving up all birthday presents, to help the people in Rwanda get clean water. My goal is to raise $1,000 so 15 more people can drink clean water. In the past three months, I've raised $600.
Today, on Giving Tuesday, I'm reviving my campaign to reach the goal of $1,000.
Join me in helping fund clean water in Rwanda. Donate to charity:water now.
So far 15 other have. Will you help us change the world?