Going to Business of Software 2012 in Boston? Here's the scoop on who I am and potential points of connection if you want to connect beforehand or meet me there. Scroll down, or use the links below to jump to a section.
Who Am I?
We each have many different facets. Here are some of mine.
My Interests
Want to talk to me? See below for potential conversation topics.
Interesting Facts About Me
Some random facts that might be good conversation starters…
I Dropped Out of College
I went to Rensselaer Polytechnic Institute as a dual Physics/Biology major. I quickly switched to Math so I could take art & music electives.
When I ran out of art & music courses, I dropped out and spent 3 years living as an artist on the streets and hitchhiking across the country.
It was the best decision I ever made.
My Age is 34…in Base 12
To be young, you have to think young. And I think I'm young.
To encourage the spirit of youthfulness, I often state my age in different mathematical bases.
In base 13, I'm 31; in base 16, I'm 38; and in base 19, I'm 22.
I Helped Test GPS
After high school, I got a job writing test software for ship & submarine navigation systems for the U.S. Navy.
The software I wrote graphed the data they were collecting while testing GPS—the same GPS used in our phones today.
It was my first data visualization job.
My Vision Is 2-D
I only see in two dimensions. My eyes have been crossed all my life. They don't merge into a single image.
But there's a bonus: one eye is near-sighted and the other is far-sighted. Since I only use one at a time, I don't need glasses.
In fact, it means I won't need reading glasses until I'm much older.
I Didn't Drink Until Age 25
Until eighth grade, my father was a practicing alcoholic. As such, I avoided alcohol through my teens & into my 20s.
To avoid the social pressure, I used to tell people I was allergic to alcohol.
My first drink: absinthe in Prague.
I'm a 1st Generation German
My father was born at the end of World War II in a small village outside Cologne, Germany.
My mother's mother came from Durbach, outside the Black Forest.
Other Events I Attend
Events I'm planning to attend or did attend this year are listed below. If you're going to any of these events, let's connect up at Business of Software and get to know each other. Note: Events are not in chronological order.
My Goals
My motto for 2012: Make More Mistakes
Plus 7 verbs: Appreciate – Help – Socialize – Simplify – Exercise – Savor – Extend
I plan to keeping do all that, and more. For Business of Software, I want to achieve the goals below. If you can help out in any way, it would be much appreciated. And if I can help you achieve your goals, just let me know!
Make 5 Great Connections
I signed up for Business of Software based on the people going. Out of all the people attending, I want to walk away with 5 new friends. Five people who I'll still be talking to 6 months from now.
If you see me, come up & say hi. Maybe you'll be one of the 5.
Interview 3 People About Key Decisions
I continue to research how people make decisions. My greatest insights have come from interviewing people about the decisions they make. I'd like to interview at least 3 people at Business of Software about their decisions.
Would you like to be one of those?
Remember 3 New Insights
The learning at events like Business of Software can be overwhelming. Rather than trying to remember it all, my goal is to remember 3 new insights. Ideally these would be insights that would produce a 10x impact on Lab Escape or one of my side projects.
If you went last year, what were the insights you gained? Leave a comment at the end of this page.
How To Recognize Me
Look for the black fedora. I always wear a black fedora at networking events so I'm easy to find. Check out the photo below to see what I look like.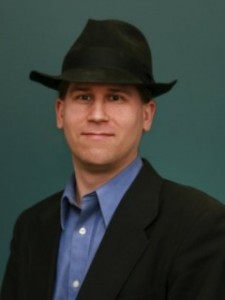 How To Connect With Me
I aim to be friendly and not to bite. Please come up and say hi if you see me at Business of Software. If we have a great connection, let's definitely keep it going after the conference.
Before: I am taking some time each day to scan the #BoS2012 Twitter stream.
During: Twitter and e-mail will be the best ways to reach me.
After: Send me an e-mail, follow me on Twitter, friend me on Facebook or connect with me on LinkedIn.
Policy: I'm starting to follow most people back on Twitter and accept most Facebook friend requests. For LinkedIn, I still wait until I meet someone before adding them as a contact.
Ideas: If you're interested how I manage LinkedIn contacts, read Managing LinkedIn Connections Using Tags. I'm starting to do the same for Facebook using lists.