Going to World Domination Summit in Portland? Here's the scoop on who I am and potential points of connection if you want to connect beforehand or meet me there. This also serves as my schedule & plan for the event. Scroll down, or use the links below to jump to a section.
Who Am I?
We each have many different facets. Here are some of mine.
My Interests
Want to talk to me? See below for potential conversation topics.
Interesting Facts About Me
Some random facts that might be good conversation starters…
I Dropped Out of College
I went to Rensselaer Polytechnic Institute as a dual Physics/Biology major. I quickly switched to Math so I could take art & music electives.
When I ran out of art & music courses, I dropped out and spent 3 years living as an artist on the streets and hitchhiking across the country.
It was one of the best decisions I ever made.
My Age is 33…in Base 12
To be young, you have to think young. And I think I'm young.
To encourage the spirit of youthfulness, I often state my age in different mathematical bases.
In base 13, I'm 30; in base 15, I'm 29; and in base 19, I'm 21.
Find me at WDS & I'll give you a younger age.
I Helped Test GPS
After high school, I got a job writing test software for ship & submarine navigation systems for the U.S. Navy.
The software I wrote graphed the data they were collecting while testing GPS—the same GPS used in our phones today.
It was my first data visualization job.
My Vision Is 2-D
I only see in two dimensions. My eyes have been crossed all my life. They don't merge into a single image.
But there's a bonus: one eye is near-sighted and the other is far-sighted. Since I only use one at a time, I don't need glasses.
In fact, it means I won't need reading glasses until I'm much older.
I Didn't Drink Until Age 25
Until eighth grade, my father was a practicing alcoholic. As such, I avoided alcohol through my teens & into my 20s.
To avoid the social pressure, I used to tell people I was allergic to alcohol.
My first drink: absinthe in Prague.
I'm a 1st Generation German
My father was born at the end of World War II in a small village outside Cologne, Germany.
My mother's mother came from Durbach, outside the Black Forest.
Through my father, I have dual citizenship by birth.
Other Events I Attend
Events I'm planning to attend or did attend this year are listed below. If you're going to any of these events, let's connect up at WDS and get to know each other.Note: Events are not in chronological order.
My Schedule
My current schedule for WDS. If the title says Facebook Even when you hover over the link, it requires membership to the World Domination Summit 2012 Facebook group to see the event.
Thursday, July 5th
10:00a – 2:00p (?)
Portland 4T Trail – Tram, Trolley, Trail and Train
3:00p – ?
Unconventional Race
Friday, July 6th
4:00p – 6:00p
Think Traffic Happy Hour
Jimmy Mak's @ 221 NW 10th Ave, Portland, OR 97209
6:30p – 9:00p
WDS: Registration and Opening Party
Pure Space @ 1315 Northwest Overton Street, Portland, OR 97209
Saturday, July 7th
8:30a – 12:30p
WDS: Main Stage Speakers
Newmark Theatre @ 1111 Southwest Broadway, Portland, OR 97205
2:00p – 3:00p
Indie Publishing Demystified: How Any Writer Can Prosper From The eBook Revolution – Matthew Gartland
Elliott Center @ 1226 SW Salmon St, Portland, OR 97205
3:00p – 4:00p
Book Concepts That Sell – David Fugate
Elliott Center @ 1226 SW Salmon St, Portland, OR 97205
4:00p – 6:00p
Main Stage Speakers
Newmark Theatre @ 1111 Southwest Broadway, Portland, OR 97205
6:30p – 9:30p
Portland Bike Tour!
Biking all over Portland!
Sunday, July 8th
8:30a – 12:30p
WDS: Main Stage Speakers
Newmark Theatre @ 1111 Southwest Broadway, Portland, OR 97205
2:00p – 3:00p
Write Your Book Now: Kick Fear to the Curb with a Simple Content Map – Cynthia Morris
Elliott Center @ 1226 SW Salmon St, Portland, OR 97205
3:00p – 4:00p
Less is more. Simple productivity hacks that will save you an hour a day – Julia Roy
Elliott Center @ 1226 SW Salmon St, Portland, OR 97205
4:00p – 6:15p
Main Stage Speakers
Newmark Theatre @ 1111 Southwest Broadway, Portland, OR 97205
8:00p – late
World Domination Summit 2012 Closing Party
Crystal Ballroom @ 1332 West Burnside St, Portland, OR 97209
My Goals
My motto for 2012:
Make More Mistakes
Plus 7 verbs:
Appreciate – Help – Socialize – Simplify – Exercise – Savor – Extend
I plan to keeping do all that, and more. For WDS, I want to achieve the goals below. If you can help out in any way, it would be much appreciated. And if I can help you achieve your goals, just let me know!
Make 5 Great Connections
I signed up for World Domination Summit based on the people going. Out of the 1,000 people going, I want to walk away with 5 new friends. Five people who I'll still be talking to 6 months from now.
If you see me, come up & say hi. Maybe you'll be one of the 5.
Develop 3 Guest Posts
I launched Lean Decisions on June 26th. Now I need readers. But I want targeted readers. So I need to guest post on other people's blogs.
I want to meet readers who want to optimize their decisions. People into life hacking, quantified self, minimalism, lean startups and lifestyle design likely fit this. Thus, meeting people blogging on these subjects will help.
Sample articles I might write include:
How to Order from a Menu Quickly: Tips for making quick ordering decisions
Use Habits to Avoid Decisions: Automate your decisions using habits
Ask the Right People About Your Idea: Before making a decision, make sure you're asking the right people for information
Why You Should Throw Away Your Decisions: Inventory how many decisions you make & reduce them
Who should I be meeting? Let me know by social channels or leave a comment here.
Find 3 Future Guest Post Writers
In addition to guest posting on other people's sites, I'd eventually like people to guest post on Lean Decisions.
The concept continues to evolve, but the ideal guest post writer would have an analytical view of decision-making balanced with the practicality that some decisions need to be gut decisions. Writing posts within specific domains would be great.
Who should I talk to about guest writing for Lean Decisions? Let me know by social channels or leave a comment here.
Interview 3 People About Key Decisions
I continue to research how people make decisions. My greatest insights have come from interviewing people about the decisions they make. I'd like to interview at least 3 people at WDS about their decisions.
Would you like to be one of those?
Remember 3 New Insights
The learning at events like WDS can be overwhelming. Rather than trying to remember it all, my goal is to remember 3 new insights. Ideally these would be insights that would produce a 10x impact on one of my personal or professional projects.
If you went last year, what were the insights you gained? Leave a comment at the end of this page.
How To Recognize Me
Look for the black fedora. I always wear a black fedora at networking events so I'm easy to find.For World Domination Summit, I'll be dressing more casually than I would at a business conference. I should look like the photo on the left. The photo on the right is my Gravatar/Facebook photo, so that's how to recognize me online.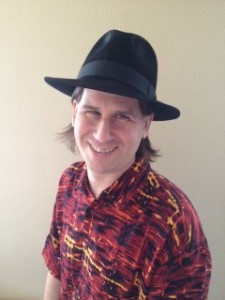 What I'll Look Like at WDS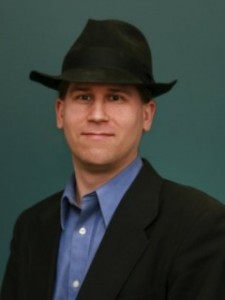 My Gravatar & Online Photo
How To Connect With Me
I aim to be friendly and not to bite. Please come up and say hi if you see me at WDS. If we have a great connection, let's definitely keep it going after the conference.
Before:
I am taking some time each day to read the
World Domination Summit 2012 Facebook group
and scan the
#WDS
and
#WDS2012
Twitter streams.
During: Twitter and e-mail will be the best ways to reach me. Or if you want to meet in the lobby sometime, I'll be staying at the Healthman Hotel.
After: Send me an e-mail, follow me on Twitter, friend me on Facebook or connect with me on LinkedIn.
Policy: I'm starting to follow most people back on Twitter and accept most Facebook friend requests. For LinkedIn, I still wait until I meet someone before adding them as a contact.
Ideas: If you're interested how I manage LinkedIn contacts, read Managing LinkedIn Connections Using Tags. I'm starting to do the same for Facebook using lists.
My Asheville Crew
Other people from Asheville that I'm attending WDS with that you should check out include: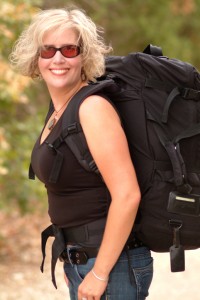 Audrey Reynolds
@helloaud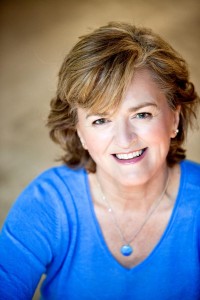 Ursula Jorch
@ursulajorch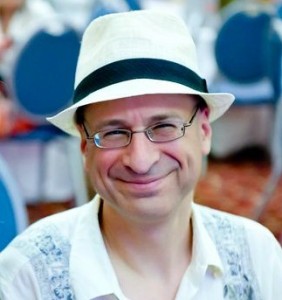 Jonathan Feldman
@_jfeldman
Other Useful Resources
A list of resources for you and I to use to prepare and enjoy WDS. I haven't read all these yet. This is my list of everything to read before the conference. I'll updated it as I discover new resources. Feel free to send me more.