Two weeks ago I attended Business of Software 2011 and saw a talk by Alex Osterwalder on the business model canvas, a tool for documenting and exploring business models. Then last weekend I attended Charlotte Startup Weekend 3 and explored the business model canvas in more depth.
If you're not familiar with Startup Weekend, it is an event where programmers, designers and business people team up to create a startup business within 54 hours. It starts on Friday night and ends Sunday night when each team presents their business to a panel of judges. You can read more about my experience at Startup Weekend Boston here.
I participated on the WiFi Crowd team with eleven other people. During the weekend, as we discussed the business model, I downloaded the Business Model Toolbox app onto my iPad so we could use it in exploring our business model.  Business Model Toolbox allows you to quickly create business model canvases and document the key parts of your model.
We used the tool to help us think through our business model. But I was on the tech team and didn't get a chance to use it as much as I had wanted. So, during the presentations, I decided to attempt to document each team's business model based on their presentation. In this post, I present the results of that experiment. Click any business model below to see a larger version.

Disclaimer
I won't claim I accurately documented each team's business model. Consider each of these models below as my interpretation of what was presented. I have yet to read the Business Model Generation book (though, thanks to Business of Software, I now have a free copy). As each team presented, I read the help within the app to learn more about the business model canvas and how Business Model Toolbox worked.
Also, I took notes on some elements. These do not get exported from Business Model Toolbox, so the building blocks may appear cryptic or incomplete. When a canvas has both blue and yellow building blocks, the yellow building blocks refer to the consumer customer while the blue building blocks refer to the business customer.
Finally, the business model canvas isn't necessarily designed to model businesses while watching presentations. I was doing this as an experiment, both to learn how to use the software and as a lens through which to view the presentations. As an experiment, I learned a lot. But please don't rely on this post as your only experience with the business model canvas. Check out the web site and learn it for yourself.
Nudge
Nudge is a social alarm clock that wakes you up with a recorded audio or video file from a loved one or friend. They distribute the app online through app stores and then sell ads or premium versions for their revenue.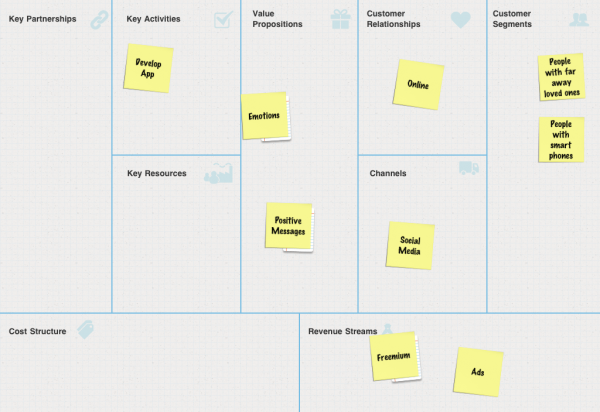 Let's Eat
Let's Eat is a coupon solution for restaurants that provides real-time, time-limited coupons similar to GroupOn Now. They serve both sit-down restaurants looking for customers and people looking for places to eat, allowing restaurants to do yield management and increase their number of customers during slow times.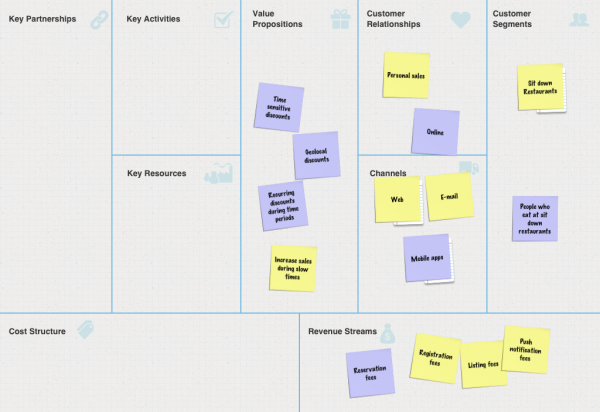 WiFi Crowd
WiFi Crowd provides cheap, accountable WiFi to cities and counties. They sell to municipalities through personal relationships gained from trade shows, referrals and associations. Revenue comes in the form of a monthly subscription fee and ad revenue.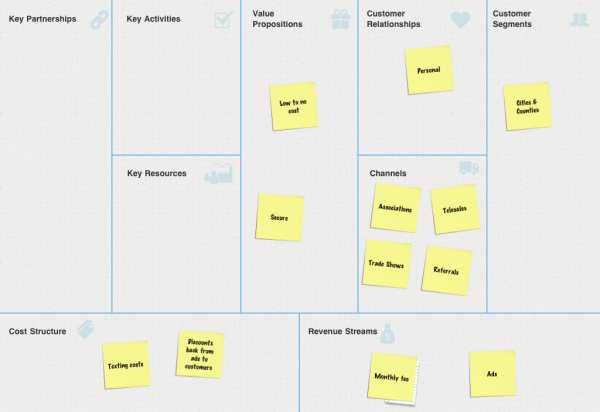 The above business model canvas was what I documented during the presentation–that is, what Marc and Juan presented to the judges.  During the weekend we also created business model canvases to talk through our business model. Below I've included one reflecting where we started from in our internal discussions.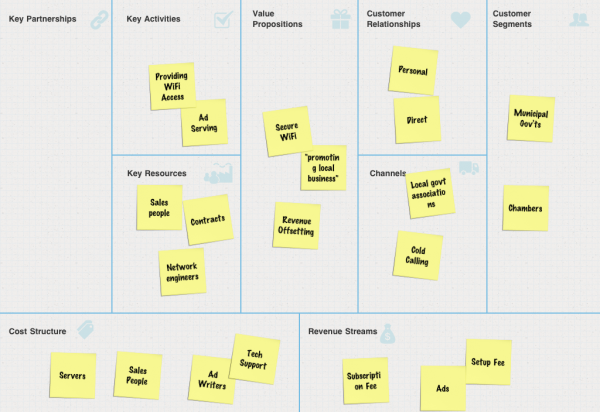 Crib Sheet
Crib Sheet helps you keep track of your baby throughout your day by logging the mood and activities of your baby. Parents buy Crib Sheet from the app store or through partners. Crib Sheet makes money through app sales and coupons.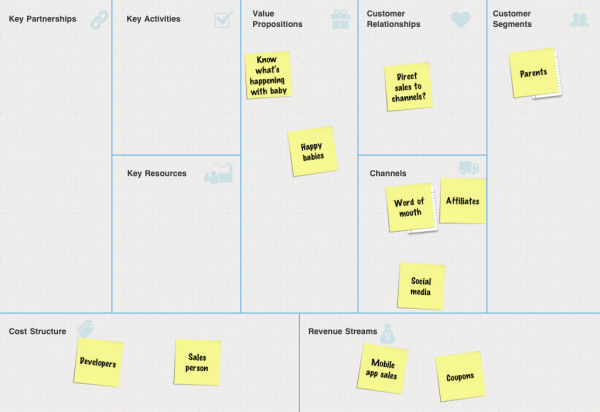 justcollab
justcollab helps brand find and collaborate on marketing partnerships. They make money by selling licenses to a white label version of their software.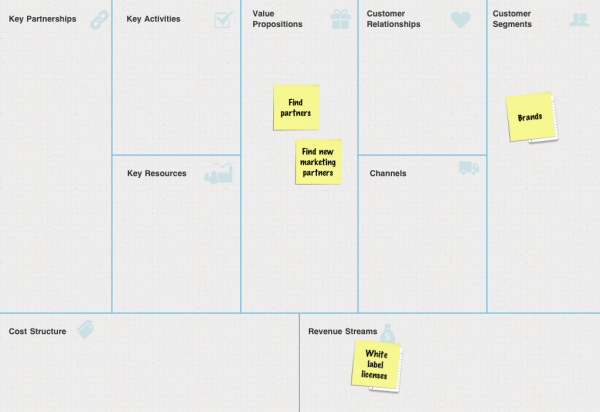 Spontazy
Spontazy helps you find cool events happening at local night clubs. They serve both people looking to go out and nightclub owners, using direct sales to reach nightclub owners. Special offers can be presented to customers to entice them to visit a club and nightclub owners can track the effectiveness of their marketing efforts through analytics.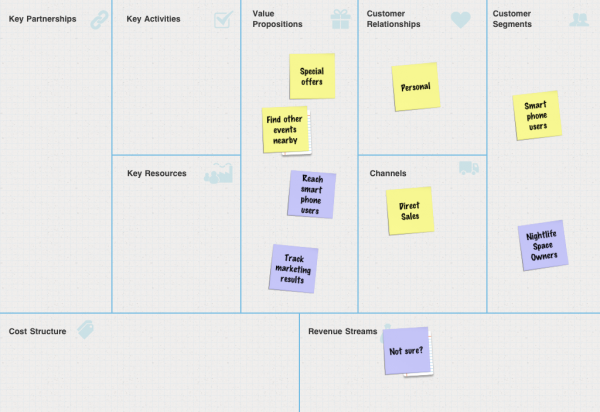 Lessons Learned
Going through the process I learned:
Presentations focused too much on the technology or product and not enough on the other aspects of the business. Some presentations had clear gaps in describing key parts of the business.
Value propositions were often described in terms of features or benefits rather than value. Not surprising, since most entrepreneurs struggle with this. Crib Sheet did this well. Their key benefit was enabling parents to know what was happening with their babies, but their value was "happy babies". Awesome.
Key partnerships were overlooked too often. Internally within our team we struggled with this too. The assumption that everything needed to be performed in-house pervaded our discussions. We debated whether to provide a value to our customer directly and use partners to help support that value, or whether to act as a referring agent only and not include that value proposition as a core part of our solution.
Business model canvas provides a useful tool for evaluating startup presentations, especially the right half of the canvas. The businesses that detailed their customers, channels, value propositions and revenue streams felt more solid.
Mapping other people's businesses can be a great way to learn the business model canvas. It allows you to remain emotional detached while you analyze the parts of the business.
Overall, I rated the experiment a success and would recommend others try it at future events.
What has been your experience using the business model canvas?